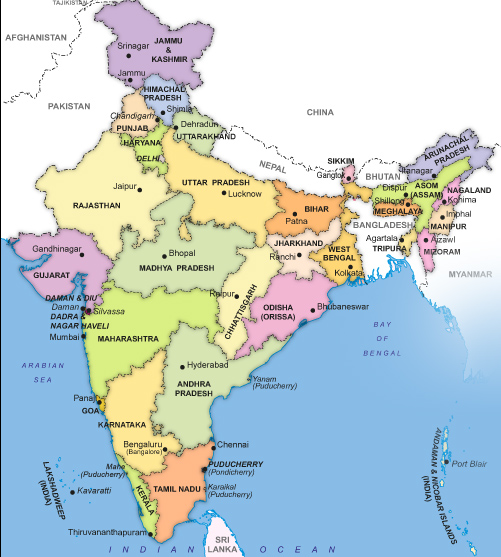 May 2015

Our dearest Sir Larry and Madam Martha.

greetings u all in Jesus our savior.

Here are some old photos of our Rchoda center and an attachment of the news paper. attachment is in Hindi.

Here is  the height of Tricks of Anti-Christians activities going here in our Areas. it's affecting our works badly everywhere.

Very closed to our Center is An Asylum run by Roman Catholic Mission for the last 10 years. Here they caring poor and parents Children.Providing food,medicine and education in the love of Christ.but now is Asylum is closed by the Police. they have put charge of Teaching Bible to Children,changing name and religion of the children dealing illegally and physically and mentally Exploitation of children . they cancelled the registration of the center and put the director into the prison.

Sir they are inquiring our center also.

Please pray for .

Please pray.

Pr. M C India.

......

Our dearest Sir Larry and Madam Martha.

sir thank u very much for this blessed support to us. May God bless u all richly from His Heavenly Treasures Abundantly.

on 4th May we have arranged a revival program with the help of a ministry wing CHRISTIAN EVANGELICAL MOVEMENT AND THE MISSION SCHOOL OF BHOPAL. it was a blessed program to all of us. 4 got Graduate in B.Th course and were given certificates. beautiful programs were presented by small children and youths. Lady pastors wing also were created.many pastors from different denominations were taken part in the programs.Pr. S M were the chief speaker there.

we all have taken  many decisions in our discussion session to move in the ministries in the present situations.

once again thank u very much for all u doing to us and the ministry here. especially for prayers and finance supports.

yours. Pr. M C India.


Click on picture to enlarge


JUNE 2015

Our dearest  Sir Larry and madam Martha.

Greetings u all in the name of Jesus our savior.

I am quite glad to inform u about our new Center (Assembly) at the village J . Pr.R has started a new work there. Sister P will assist the center. 0n 12th June 2015 by 3.00pm inauguration ceremony was held . Br. P offered his room for the center. About 40 children and 32 parents were presented .Mrs. R ( the head of the village ) were the Chief Guest. We honored her by giving a shawl .we registered about 30 students for the center from class 1st to 8th. In the starting we gave some sets of books, copies, Slats and pen. Lastly we gave some food item to eat for all.

Sir, this is one of our endeavors to spread the gospel and establish a group of blood washed people in the village, when the circumstances are absolutely against us and the gospel is not allowed to preach openly and directly. Due to some problem in my throat I was absent in this program. Photos are attached with this report.some more reports follows.

Today I and pr. P were on visit to our old group of prayers in some areas/ villages. In the village Lal about 6 believers' families are in great problems. For the last 6 months Pr. B is not allowed to preach gospel even and he was warned by the powerful men not to enter even into the village. And now head and the village committee have passed an order to these believers to leave or go away from the village. They said if u left our religion and traditions so u must leave the village too.

HERE IS CUTTING OF CHRISTIAN NEWS PAPER OF 12TH May 2015. Also see read it.

There are two news more imp.for us. But it's is in Hindi ( sorry ).

1.       Some people of RSS attacked on a church in Indore while they were praying. About 60 people were injured. Three Town Inspectors and big troop of police made the situations in control.

2.       Same day in the city by 3.15 pm , some unknown people attacked on a Hostel run by a missionary. Cases have been filed.

Please pray for our new center and all these testimonies. We need more finance for the gospel sake.

PRAYING FOR MAY GOD SETTLE ALL THE FINANCE SITUATIONS AND CRISIS MIGHT GOT OUT SOON IN JESUS NAME .

Our dearest  Sir Larry and Madam Martha Perkins.

Greetings u all in Jesus Name our savior.

Sir, by the grace of God we all keeping well here even in this hot climate. (tem. Near 47 degree). For the last three days we were in Nagpur (Maharashtra state) with our two pastors. There we had a meeting with the believers there. Last day on 3rd June we Baptized 14 believers brought from A****** by Pr. N c. ( who got an accident and broken his both legs). By grace of God he is well now.

If God willing tomorrow on 5th June we have a meeting with the area (Sagar) pastors at the house of Pr. P. Also we are going to start a new work at the new place in Risen district.

At present there is one pastor family of Believers denomination. This pastor is helping us to place our work in that area. In the beginning we will collect some children and some old people to teach them.

So please remember all this in your unfailing prayers. We know that where true work and worker is Satan greatly works to create hindrances we facing every step.

We know that we are weak technically and can't express our thought and works as other do and that's why people can't understand our really works we doing. But we assured that our God in heaven looking us.

Sir, please remember our children in your prayers as they need bigger amount for their further studies. We have no source to cover up so far. We are looking to our heavenly father for their needs. We thank God for the great help coming from Pr. Larry and Martha Perkins. But this month is little late, hoping soon.

we still longing to fund for the building here.

God bless u all richly.

Your Pr. M C India.

JULY 2015

Our dearest Sir Larry and Madam Martha.

Our greeting s and love to u all in Jesus name our savior.

Sir it's our great joy to report all about the works going on here. First of all I would like to thanks u all for your loving care and unfailing prayers for us always. In this whole month I was battle with so many diseases. First half month I was suffering from Throat pain and fever and second half with pain at back side of skill near right Ear and dimness of sight. Doctor guessed it's all because might be Sugar and blood pressure. Treatment is going on. Please remember me in your prayers.

Here is about the Program at our M****** Center with Sunday school Children and old ages. About 125 Children and 40 old age persons and some of our believers were presented in the program. Mr. Z from Bhopal blessed our program with his inspiring message.

Children presented beautiful programs and Acts along with some cultural dances in groups and solo. Had worship praise and songs by the children. Al last we gave some food items to them. We distributed many inspiring awards for the Students who got good rank in their respective academic study. We also gave some Shawls and Towels for the senior people.

In this way we had wonderful programs here. It's double our joy to know that three old Students and 5 old (above 65 years) people have decided to witness the Lord in water. And we will do it very soon if God willing.

So join us to give thanks to our loving master. I also want to give thanks to God on behalf of u all for your regular supports and encouragements in Jesus love.

Thank u very much for all u doing for us . may God bless and fill u with all His richest.

Sir Since we are praying to our dear Nancy we got closer to her and have thought always about her. And expect every moment to hear all is well with her.

Sir, it's grace of God abundantly on us that we are still being used in His almighty hands for His kingdom sake. Here is one report about the programs of this week

As last week we finished our visits and a program at M B Assembly, we have one more such program at B***a (Eb***z** Church) next week.  If God willing next month from 17th  to 19th August we have our all pastors and teachers meet.

Now have a brief look on photos sent from our pastors.

Sir our Pastor M*******8 (G********r), Pr. P***** ( B****a ), Pr. R***** ( B*** ) and Prb*******al from ******a village. Sir for the last one year they could not worship openly at their place due to great pressure from opposite people. But by the grace of God they have started it again gradually. See one photo of 4 people reading and praying. These new believers are getting ready to be baptized and we will do it soon.

WE MAKING READY AND PREPARED PEOPLE TO THEIR REAL ETERNAL DESTINY HEAVEN IN JESUS.

NB-; PLEASE PRAY FOR OUR DEAR DAUGHTER R**H** C*******Y AS SHE RE-TAKE THE ALL INDIA PR-MEDICAL ENTRANCE TEST ON 25TH JULY 2015.

ALSO VERY HUMBLE REQUEST FOR TO HAVE US OUR OWN HOME AND WORSHIP HALL HERE. WE JUST NEED 1 Million Rupees equal near 17000.00 US Dollars. PLEASE PRAY.

THANK U VERY MUCH.

Your

Pr. M C India.